HP ProDesk 600 G4

Ready for expansion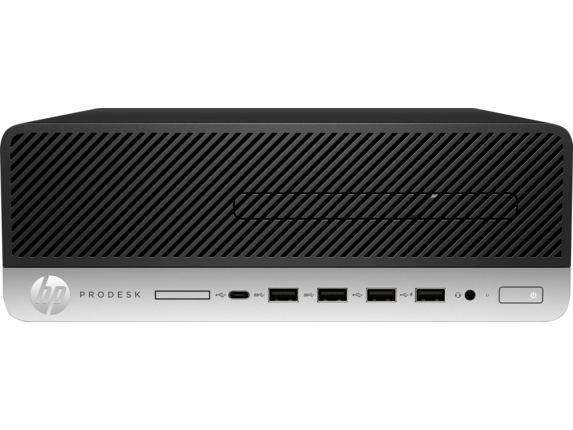 HP Workstation
HP ProDesk 600 G4
600 Commercial Desktop PCs - 4HJ84UT#ABA
#4HJ84UT#ABA
Our Price: $692.00
600 Commercial Desktop PCs - 4HJ10UT#ABA
#4HJ10UT#ABA
Our Price: $773.00
600 Commercial Desktop PCs - 4HJ87UT#ABA
#4HJ87UT#ABA
Our Price: $814.00
600 Commercial Desktop PCs - 4HJ75UT#ABA
#4HJ75UT#ABA
Our Price: $854.00
600 Commercial Desktop PCs - 4HJ90UT#ABA
#4HJ90UT#ABA
Our Price: $905.00
Overview:
The HP ProDesk 600 SFF is expandable PC featuring the flexibility, security, and manageability required for your growing business, in a chassis designed for the modern workplace.
Ready for expansion
Windows 10 Pro 64
8th Generation Intel® Core™ i5 processor
4 GB memory; 500 GB HDD storage
Integrated Intel® UHD Graphics 630
Features:
Expansion that extends your investment
The full value of your investment comes with expansion that extends the life of your PC. The HP ProDesk 600 SFF has two bays, two slots, two M.2 connectors, and optional dual SSDs with RAID support
Built on a secure foundation
Protect your PC against the evolving malware threats of the future, with our self-healing, hardware-enforced, and manageable security solutions. From the BIOS to the browser HP Sure Start Gen4 and HP Sure Click help secure your PC.
Powerful options
Power through your day with high-performance 8th Gen Intel® Core™ processors, optional Intel® Optane™ memory, and graphics cards.
Connection hub
With 11 total USB ports including one USB Type-C™, up to three video outputs, and optional Bluetooth® connectivity, the HP ProDesk 600 SFF becomes a hub for all your devices in the office.
Let nothing stand in your way
Power through your day with Windows 10 Pro with built-in security, collaboration, and connectivity.
Firmware level protection
Protect the firmware that antivirus can't reach! The hardware-enforced self-healing protection offered by HP Sure Start Gen4 automatically recovers the BIOS from malware, rootkits, or corruption.
Browse confidently
Help protect your PC from websites, attachments, malware, ransomware, and viruses with hardware-enforced security from HP Sure Click.
Work withouy inerruption
Keep productivity high and downtime low with HP BIOSphere Gen4 firmware-level automation. Your PCs have extra protection thanks to automatic updates and security checks.
Specifications:
OPERATING SYSTEM
Windows 10 Pro 64
PROCESSOR FAMILY
8th Generation Intel® Core™ i5 processor
PROCESSOR
Intel® Core™ i5-8500 with Intel® UHD Graphics 630 (3 GHz base frequency, up to 4.1 GHz with Intel® Turbo Boost Technology, 9 MB cache, 6 cores)
CHIPSET
Intel® Q370
FORM FACTOR
Small form factor
MEMORY
4 GB DDR4-2666 SDRAM (1 X 4 GB) Transfer rates up to 2666 MT/s.
MEMORY SLOTS
4 DIMM
INTERNAL DRIVE
500 GB 7200 rpm SATA 500 GB 7200 rpm SATA
HARD DRIVE
512 GB HP Z Turbo Drive PCIe® SSD
OPTICAL DRIVE
DVD-Writer
GRAPHICS
Integrated Intel® UHD Graphics 630
I/O PORT LOCATION
Rear
PORTS
1 headset connector; 1 USB 2.0; 1 USB 2.0 (fast charging);
2 USB 3.1 Gen 2; 1 USB 3.1 Type-C™ Gen 2
EXPANSION SLOTS
1 M.2 2230; 1 M.2 2230/2280; 1 PCIe 3 x4; 1 PCIe 3 x16
NETWORK INTERFACE
Intel® I219LM GbE
Pricing Notes:
Pricing and product availability subject to change without notice.
HP Workstation
HP ProDesk 600 G4
600 Commercial Desktop PCs - 4HJ84UT#ABA
#4HJ84UT#ABA
Our Price: $692.00
600 Commercial Desktop PCs - 4HJ10UT#ABA
#4HJ10UT#ABA
Our Price: $773.00
600 Commercial Desktop PCs - 4HJ87UT#ABA
#4HJ87UT#ABA
Our Price: $814.00
600 Commercial Desktop PCs - 4HJ75UT#ABA
#4HJ75UT#ABA
Our Price: $854.00
600 Commercial Desktop PCs - 4HJ90UT#ABA
#4HJ90UT#ABA
Our Price: $905.00
600 Commercial Desktop PCs - 4HJ09UT#ABA
#4HJ09UT#ABA
Our Price: $935.00
600 Commercial Desktop PCs - 4HJ15UT#ABA
#4HJ15UT#ABA
Our Price: $955.00
600 Commercial Desktop PCs - 4HM36UT#ABA
#4HM36UT#ABA
Our Price: $955.00
600 Commercial Desktop PCs - 4HJ16UT#ABA
#4HJ16UT#ABA
Our Price: $976.00
600 Commercial Desktop L10 Value - 4HG95UT#ABA
#4HG95UT#ABA
Our Price: $682.00
600 Commercial Desktop L10 Value - 4JE00UT#ABA
#4JE00UT#ABA
Our Price: $733.00
600 Commercial Desktop L10 Value - 4FZ37UT#ABA
#4FZ37UT#ABA
Our Price: $763.00
600 Commercial Desktop L10 Value - 4FZ39UT#ABA
#4FZ39UT#ABA
Our Price: $763.00
600 Commercial Desktop L10 Value - 4HM37UT#ABA
#4HM37UT#ABA
Our Price: $793.00
600 Commercial Desktop L10 Value - 4JE03UT#ABA
#4JE03UT#ABA
Our Price: $793.00
600 Commercial Desktop L10 Value - 4LU82UT#ABA
#4LU82UT#ABA
Our Price: $804.00
600 Commercial Desktop L10 Value - 4FZ38UT#ABA
#4FZ38UT#ABA
Our Price: $814.00
600 Commercial Desktop L10 Value - 4FZ41UT#ABA
#4FZ41UT#ABA
Our Price: $844.00
600 Commercial Desktop L10 Value - 4LE94UT#ABA
#4LE94UT#ABA
Our Price: $844.00
600 Commercial Desktop L10 Value - 4JE02UT#ABA
#4JE02UT#ABA
Our Price: $864.00
600 Commercial Desktop L10 Value - 4HV74UT#ABA
#4HV74UT#ABA
Our Price: $884.00
600 Commercial Desktop L10 Value - 4LU99UT#ABA
#4LU99UT#ABA
Our Price: $905.00
600 Commercial Desktop L10 Value - 4FZ40UT#ABA
#4FZ40UT#ABA
Our Price: $935.00
600 Commercial Desktop L10 Value - 4HG92UT#ABA
#4HG92UT#ABA
Our Price: $935.00
600 Commercial Desktop L10 Value - 4LB56UT#ABA
#4LB56UT#ABA
Our Price: $965.00
600 Commercial Desktop L10 Value - 4LU89UT#ABA
#4LU89UT#ABA
Our Price: $965.00
600 Commercial Desktop L10 Value - 4HG93UT#ABA
#4HG93UT#ABA
Our Price: $976.00
600 Commercial Desktop L10 Value - 4LU83UT#ABA
#4LU83UT#ABA
Our Price: $1,006.00
600 Commercial Desktop L10 Value - 4LC01UT#ABA
#4LC01UT#ABA
Our Price: $1,026.00
600 Commercial Desktop L10 Value - 4LE75UT#ABA
#4LE75UT#ABA
Our Price: $1,067.00
600 Commercial Desktop L10 Value - 4LU90UT#ABA
#4LU90UT#ABA
Our Price: $1,269.00
600 Commercial Desktop L10 Value - 4LW25UT#ABA
#4LW25UT#ABA
Our Price: $1,330.00