HP Z6 G4 Workstation

A future-proof powerhouse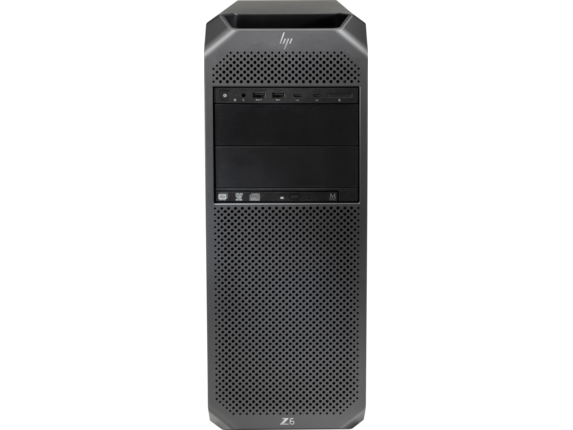 HP Workstation
HP Z6 G4 Workstation
Z6 G4 Workstation Systems - 3GF39UT#ABA
#3GF39UT#ABA
Our Price: $1,770.00
Z6 G4 Workstation Systems - 3GF40UT#ABA
#3GF40UT#ABA
Our Price: $1,887.00
Z6 G4 Workstation Systems - 2XM73UT#ABA
#2XM73UT#ABA
Our Price: $1,906.00
Z6 G4 Workstation Systems - 2WZ67UT#ABA
#2WZ67UT#ABA
Our Price: $2,296.00
Z6 G4 Workstation Systems - 1WU31UT#ABA
#1WU31UT#ABA
Our Price: $2,495.00
Overview:
No matter what the future holds, you have the performance you need. Ideal for VFX and rendering, the Z6 offers a range of processing power and the flexibility to expand components.
A future-proof powerhouse
Windows 10 Pro 64
Intel® Xeon® Scalable processor
16 GB memory; 512 GB SSD storage
3 PCIe x4; 1 PCIe x8; 2 PCIe x16; 2 M.2 PCIe x4
Features:
Designed to grow with you
Invest only in the technology you need today, and easily upgrade in the future. Scale up with a broad range of configurations from single or dual processors to multiple graphics cards.
Relentless power
Take on demanding workloads with high-powered processors, professional graphics and 384 GB of memory. Experience seamless performance during graphics-intensive work, such as visual effects and design visualization.
HP's Most Secure Workstation
Advanced security features come standard on every Z6. Rest assured your device, identity and data are safe with security software like HP Client Security Suite Gen3 and HP Sure Start Gen3 featuring a self-healing BIOS.
Operating Systems
Support your unique user needs with a choice of Windows 10 Pro for Workstations 64 or Linux® operating systems.
Processors
Achieve the performance you need with the ability to support two next generation Intel® Xeon® processors for up to 56 total processor cores in one system.
Deliberate design
The Z6 workstation's sleek, iconic design doesn't compromise on quiet, reliable performance
Graphics
Get serious about graphics and reach peak productivity with access to a breadth of NVIDIA® and AMD professional graphics from entry to high-end 3D.
Storage
Install pro-grade storage hardware and elevate your storage-bound apps without sacrificing standard PCIe slots.
Unrivaled BIOS protection
HP SureStart automatically detects intrusions in real-time, notifies you, and restores the BIOS you use, so you can breathe easier.
Specifications:
OPERATING SYSTEM
Windows 10 Pro 64
PROCESSOR FAMILY
Intel® Xeon® Scalable processor
PROCESSOR
Intel® Xeon® Silver 4116 (2.1 GHz base frequency, up to 3 GHz with Intel® Turbo Boost Technology, 16.5 MB cache, 12 cores)
CHIPSET
Intel® C622
ENVIRONMENTAL
Low halogen
MEMORY
16 GB DDR4-2666 ECC SDRAM (2 x 8 GB) Transfer rates up to 2666 MT/s.
MEMORY SLOTS
12 DIMM with 2 processors
INTERNAL DRIVE BAYS
Two 2.5" or 3.5"
EXTERNAL DRIVE BAYS
Two 5.25"
HARD DRIVE
512 GB HP Z Turbo Drive PCIe® SSD
OPTICAL DRIVE
HP Slim DVD-Writer
STORAGE CONTROLLER
Integrated SATA 6.0 Gb/s; Factory integrated RAID available for SATA/SAS drives (RAID 0, 0 Data, 1, 5, and 10)
COMPATIBLE DISPLAYS
All HP Z Displays and HP DreamColor Displays are supported
I/O PORT LOCATION
Front
PORTS
1 headset connector; 4 USB 3.1 G1 Type-A
6 USB 3.1 Gen 1; 2 RJ-45 (1 GbE); 1 audio-in; 1 audio-out; 1 PS/2 mouse port; 1 PS/2 keyboard port; 1 serial
EXPANSION SLOTS
Slot 1: CPU with open-ended connector. Slots 3 and 6: PCH with open-ended connector. Slot 4: CPU with open-ended connector (slot converts to x4 electrical when SSD is installed in 2nd M.2 slot). M.2 Slots 1 and 2: CPU up to 80 mm storage devices.
Pricing Notes:
Pricing and product availability subject to change without notice.
HP Workstation
HP Z6 G4 Workstation
Z6 G4 Workstation Systems - 3GF39UT#ABA
#3GF39UT#ABA
Our Price: $1,770.00
Z6 G4 Workstation Systems - 3GF40UT#ABA
#3GF40UT#ABA
Our Price: $1,887.00
Z6 G4 Workstation Systems - 2XM73UT#ABA
#2XM73UT#ABA
Our Price: $1,906.00
Z6 G4 Workstation Systems - 2WZ67UT#ABA
#2WZ67UT#ABA
Our Price: $2,296.00
Z6 G4 Workstation Systems - 1WU31UT#ABA
#1WU31UT#ABA
Our Price: $2,495.00
Z6 G4 Workstation Systems - 2WZ66UT#ABA
#2WZ66UT#ABA
Our Price: $3,014.00
Z6 G4 Workstation Systems - 1WU32UT#ABA
#1WU32UT#ABA
Our Price: $3,096.00
Z6 G4 Workstation Systems - 3GF36UT#ABA
#3GF36UT#ABA
Our Price: $3,145.00
Z6 G4 Workstation Systems - 3GF48UT#ABA
#3GF48UT#ABA
Our Price: $4,386.00