HP EliteDesk 705 G4 Workstation Edition

HP's most affordable professional certified desktop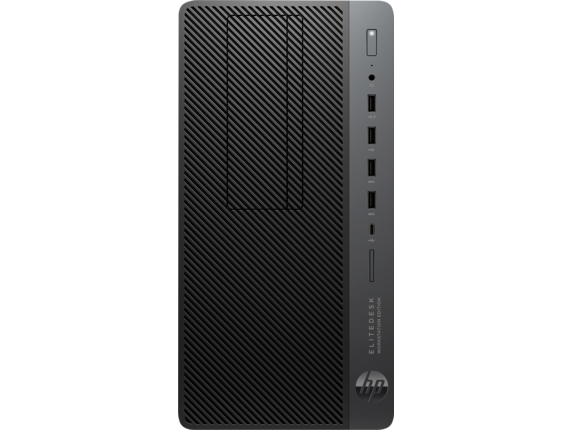 HP Business Desktops
HP EliteDesk 705 Workstation
705 Workstation Systems - 5NC05UT#ABA
#5NC05UT#ABA
Our Price: $1,058.00
705 Workstation Systems - 5NC10UT#ABA
#5NC10UT#ABA
Our Price: $1,214.00
705 Workstation Systems - 5NC12UT#ABA
#5NC12UT#ABA
Our Price: $1,318.00
705 Workstation Systems - 5NF14UT#ABA
#5NF14UT#ABA
Our Price: $1,328.00
705 Workstation Systems - 5NC07UT#ABA
#5NC07UT#ABA
Our Price: $1,333.00
Overview:
Pro-grade performance is within reach with a cost-effective desktop certified for professional software. Equipped to handle multiple tasks simultaneously, you can achieve high levels of productivity
HP's most affordable professional certified desktop
Windows 10 Pro 64
AMD Ryzen™ 7 PRO processor
16 GB memory; 512 GB SSD storage
AMD Radeon™ Pro WX 3100 Graphics (4 GB GDDR5 dedicated) [11,31,32]
1 M.2 2230; 1 M.2 2230/2280; 1 PCIe x16; 3 PCIe x1
Features:
Multitasking performance
Don't let your PC be a productivity bottleneck. Get more done, faster, when working in multiple applications. Even work on 3D designs while other tasks run simultaneously in the background.
Software certified
Work with confidence knowing your desktop is certified for your most demanding applications. We've worked closely with leading software providers like Autodesk and SolidWorks to help ensure seamless and reliable performance at every stage of your technical workflow.
Advanced security. Easy manageability.
Get powerful protection from evolving malware threats with self-healing, hardware-enforced security solutions like HP Sure Start Gen4 which protects against BIOS attacks. Plus, easily manage multiple devices with the HP Manageability Integration Kit Gen2
Operating System
Be productive in any situation. Windows 10 Pro and powerful security, collaboration, and connectivity features from HP help you power through your day.
AMD Ryzen™ PRO 2700X Processor
Up to 8 cores and 16 threads of processing power for responsive performance on offline rendering and 3D modeling in CAD applications, and for multitasking on business productivity applications.
Professional Graphics Cards
Create complex 2D designs and 3D models with optional certified NVIDIA Quadro® P1000 or AMD Radeon™ Pro WX 3100 graphics power.
NVIDIA GeForce® GTX 1060 Graphics
Get brilliant performance for breakthrough VR experiences
Configurable Ports
Customize with flexible I/O ports with your choice of VGA, DisplayPort™, HDMI or USB-Type C™ with DisplayPort™.
Superb BIOS protection
Protect the firmware that antivirus can't reach! The hardware-enforced self-healing protection offered by HP Sure Start Gen4 automatically recovers the BIOS from malware, rootkits, or corruption.
Specifications:
OPERATING SYSTEM
Windows 10 Pro 64
PROCESSOR FAMILY
AMD Ryzen™ 7 PRO processor
PROCESSOR
AMD® Ryzen™ 7 Pro 2700X Eight-Core (3.7 GHz base frequency, up to 4.3 GHz burst frequency, 768 KB L1 cache, 4 MB L2 cache, 16 MB cache)
CHIPSET
AMD B350 FCH
ENVIRONMENTAL
Low halogen
MEMORY SLOTS
4 DIMM
INTERNAL DRIVE BAYS
One 5.25" HDD; Two 2.5" HDD; One 3.5" HDD
EXTERNAL DRIVE BAYS
One slim ODD; One 5.25" ODD
HARD DRIVE
512 GB PCIe® NVMe™ SSD
OPTICAL DRIVE
HP 9.5 mm Slim DVD-Writer
GRAPHICS
AMD Radeon™ Pro WX 3100 Graphics (4 GB GDDR5 dedicated)
I/O PORT LOCATION
Front
PORTS
1 headset connector; 1 USB 2.0; 2 USB 3.1 Gen 1; 1 USB 2.0 (fast charging); 1 USB Type-C™ (charging)
1 audio-in; 1 audio-out; 1 power connector; 1 RJ-45; 2 DisplayPort™ 1.2; 4 USB 2.0; 2 USB 3.1 Gen 1
EXPANSION SLOTS
1 M.2 2230; 1 M.2 2230/2280; 1 PCIe x16; 3 PCIe x1
Pricing Notes:
Pricing and product availability subject to change without notice.
HP Business Desktops
HP EliteDesk 705 Workstation
705 Workstation Systems - 5NC05UT#ABA
#5NC05UT#ABA
Our Price: $1,058.00
705 Workstation Systems - 5NC10UT#ABA
#5NC10UT#ABA
Our Price: $1,214.00
705 Workstation Systems - 5NC12UT#ABA
#5NC12UT#ABA
Our Price: $1,318.00
705 Workstation Systems - 5NF14UT#ABA
#5NF14UT#ABA
Our Price: $1,328.00
705 Workstation Systems - 5NC07UT#ABA
#5NC07UT#ABA
Our Price: $1,333.00
705 Commercial Desktop PCs - 4PE30UT#ABA
#4PE30UT#ABA
Our Price: $530.00
705 Commercial Desktop PCs - 4HY45UT#ABA
#4HY45UT#ABA
Our Price: $631.00
705 Commercial Desktop PCs - 4PG32UT#ABA
#4PG32UT#ABA
Our Price: $672.00
705 Commercial Desktop PCs - 4PG53UT#ABA
#4PG53UT#ABA
Our Price: $672.00
705 Commercial Desktop PCs - 4PG31UT#ABA
#4PG31UT#ABA
Our Price: $723.00
705 Commercial Desktop PCs - 4HY47UT#ABA
#4HY47UT#ABA
Our Price: $733.00
705 Commercial Desktop PCs - 4PG34UT#ABA
#4PG34UT#ABA
Our Price: $733.00
705 Commercial Desktop PCs - 4PG48UT#ABA
#4PG48UT#ABA
Our Price: $733.00
705 Commercial Desktop PCs - 5KM54UT#ABA
#5KM54UT#ABA
Our Price: $763.00
705 Commercial Desktop PCs - 4HY66UT#ABA
#4HY66UT#ABA
Our Price: $915.00
705 Commercial Desktop L10 Value - 4HX84UT#ABA
#4HX84UT#ABA
Our Price: $520.00
705 Commercial Desktop L10 Value - 4SX31UT#ABA
#4SX31UT#ABA
Our Price: $631.00
705 Commercial Desktop L10 Value - 4HX83UT#ABA
#4HX83UT#ABA
Our Price: $662.00
705 Commercial Desktop L10 Value - 4SX32UT#ABA
#4SX32UT#ABA
Our Price: $662.00
705 Commercial Desktop L10 Value - 4SX33UT#ABA
#4SX33UT#ABA
Our Price: $662.00
705 Commercial Desktop L10 Value - 4HY46UT#ABA
#4HY46UT#ABA
Our Price: $682.00
705 Commercial Desktop L10 Value - 4HX80UT#ABA
#4HX80UT#ABA
Our Price: $712.00
705 Commercial Desktop L10 Value - 4HX42UT#ABA
#4HX42UT#ABA
Our Price: $723.00
705 Commercial Desktop L10 Value - 6XG59UT#ABA
#6XG59UT#ABA
Our Price: $723.00
705 DT Workstations Transactional - 6RZ54UT#ABA
#6RZ54UT#ABA
Our Price: $859.00
705 DT Workstations Transactional - 6RZ81UT#ABA
#6RZ81UT#ABA
Our Price: $910.00
705 DT Workstations Transactional - 6RZ68UT#ABA
#6RZ68UT#ABA
Our Price: $1,084.00
705 DT Workstations Transactional - 6RZ71UT#ABA
#6RZ71UT#ABA
Our Price: $1,084.00