HP EliteBook Revolve 810 G2 Tablet PC J8U29UT#ABA

Bends over backwards to help you get more done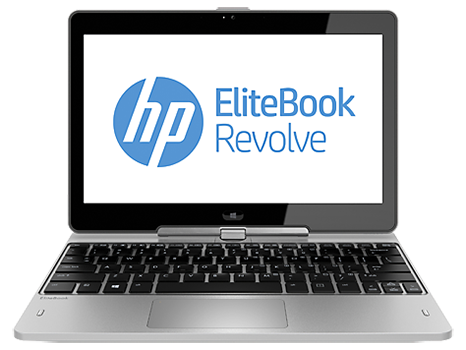 HP Notebooks
HP EliteBook Revolve 810 G2 Tablet PC
EliteBook Revolve 810 G2 Tablet PC
810 i5-4310U 11 4GB/128 HSPA PC Core i5-4310U, 11.6 HD AG LED UWVA, UMA, Webcam, 4GB DDR3 RAM, 128GB SSD, AC, BT, HSPA WWAN, 6C Battery, Win 7 PRO 64 w/Win 8.1 Pro LIC, 3yr Warranty U.S
#J8U29UT#ABA
Our Price: $1,697.00
Overview: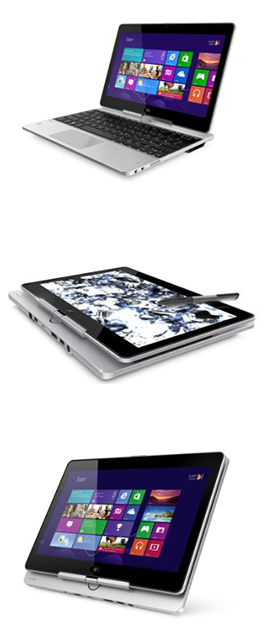 Work doesn't always adapt to you. So we designed an HP EliteBook that does. It's an ultra-thin notebook that rotates to become a tablet in an instant. The EliteBook Revolve bends over backwards to help you get more done.
Designed for durability.
This ultra-thin, full-performance EliteBook converts to a tablet. It also is designed to pass MIL- STD 810G tests1 and features a magnesium chassis and spill-resistant keyboard.
Boost your productivity with the latest 4th generation Intel® Core™ i3/i5/i7 ULT processor3 technology and a solid-state drive (SSD). Get connected with optional 4G LTE WWAN,4 HP ePrint,5 and enterprise-class docking.
Security and manageability tools for enterprises and SMBs that ease the burden on IT, including HP Sure Start self-healing BIOS.
With an 11.6-inch diagonal rotating HD7 capacitive multi-touch screen, and a 3.08 lb (1.40 kg) starting weight,8 you enjoy mobile freedom without sacrificing performance.
With an all magnesium chassis, the HP EliteBook Revolve is designed to pass MIL-STD 810G tests.1 Add another 115,000 hours of our testing and end-to-end diagnostics for confidence built right in.
Built for business. Built to last.
We chose premium materials like scratch-resistant Corning® Gorilla® Glass 3, an all-magnesium chassis and a spill-resistant backlit keyboard so you can work with a notebook that goes the distance.
Help meet your environmental initiatives when you use the low-halogen,6 EPEAT® Gold15 and ENERGY STAR® qualified26 HP EliteBook Revolve.
Keep up with the speed of business.
Power through the day with the latest 4th generation Intel® Core ULT processors3 and a solid state drive (SSD) with Intel® Rapid Start Technology,9 and be ready in as fast as 5 milliseconds.10
The HP EliteBook Revolve gives you the intuitive touch experience you expect. And with a keyboard, you have the tools you need to get the job done.
Equipped with the ports you'd expect, the high-performance HP EliteBook Revolve easily connects to your displays, projectors, and accessories through USB 3.0 and DisplayPort 1.2.
The HP EliteBook Revolve moves the way you do, adjusting the screen orientation, brightness, and more based on the way you're working.
Work in more places with optional high-speed wireless connectivity, including 4G LTE WWAN,4 Intel® WiDi,13 Bluetooth® 4.0,14 HP Wireless Hotspot,11 and HP Mobile Connect (EMEA only).12
Specifications:
HP EliteBook Revolve 810 G2 Tablet PC Specifications
Operating systems
Preinstalled:
Windows 8.1 Pro 642
Windows 8.1 642
Windows 7 Professional 6419 (available through downgrade rights from Windows 8.1 Pro 64)2
Windows 7 Professional 6419
Windows 7 Home Premium 6419
FreeDOS 2.0
Processor
BGA ULT : i7, i5, or i33
Chipset
Integrated with processor
Memory
DDR3L PC3-12800 SDRAM, 1600 MHz, one slot supporting dual-channel memory, up to 12 GB total (4 GB soldered down)20
Internal storage
128/180/256 GB M.2 SSD21
256 GB M.2 SED SSD21
Display
11.6" diagonal HD7 anti-glare (1366x768) AG UWVA touch panel
Graphics
Intel® HD7 Graphics 4400 vPro Support (only available with Core i7-4600 or Core i5-4300)
Audio/Visual
DTS Studio Sound Audio, two Integrated stereo speakers, Integrated dual-microphone array (located in the display)
Wireless support
WLAN
802.11 2x2 a/b/g/n14,22
802.11 2x2 a/b/g/n + Bluetooth® 4.0 HS Combo14,22
802.11 2x2 a/b/g/n AC + Bluetooth® 4.0 HS14, 22
WWAN
HP lt4111 LTE/EV-DO/HSPA+ Mobile Broadband Module4,14
HP hs3110 HSPA+ Mobile Broadband Module4,14
Communications
Intel® PCI Express (10/100/1000 NIC)
Ports and connectors
1 USB 3.0
1 USB 3.0 charging
1 RJ-45 (Ethernet)
1 DisplayPort 1.2
1 Stereo headphone/microphone combo
1 Side docking connector
1 Power connector
Expansion slots
Micro-SD slot
Input device
Full-size backlit,14 spill-resistant keyboard with drain, Clickpad with image sensor, on/off buttons
Software (Windows OS only)
Buy Office, HP ePrint,5 PDF Complete Corporate Edition, Evernote, Adobe® Flash Player, Skype ready,24 Skitch (Windows 8 only), HP Power Assistant,25 Lync Optimized32
Security
HP Client Security Suite (requires Windows) includes: HP Credential Manager, HP Password Manager,27 HP File Sanitizer28 and HP Device Access Manager with Just in Time Authentication, HP BIOS with self healing,29 HP Drive Encryption,16 HP Secure Erase,30 HP Trust Circles,18 Microsoft Security Essentials (Windows 7) and Microsoft Defender (Windows 8.1), HP SpareKey (requires initial user setup), Absolute Data Protect,31 TPM Embedded Security Chip 1.2, security lock slot (lock sold separately)
Dimensions (w x d x h)
8.35 x 11.22 x 0.80 in
212 x 285 x 22.2 mm
Weight
Starting at 3.08 lb (1.40 kg) Weight will vary by configuration
Power
6 cell polymer long life battery (44 WHr) HP 45W Slim Smart AC Adapter
Expansion solutions
Optional HP 2013 UltraSlim Docking Station;14 HP EliteDisplay E231 23-inch LED Monitor14
Warranty
1 and 3 year limited warranty options14 available. Optional HP Care Pack Services14,23 are extended service contracts that go beyond your standard warranties. For more details visit: hp.com/go/lookuptool
1MIL-STD testing is pending and is not intended to demonstrate fitness for U.S. Department of Defense contract requirements or for military use. Test results are not a guarantee of future performance under these test conditions.
2Not all features are available in all editions of Windows 8.1. Systems may require upgraded and/or separately purchased hardware, drivers, and/or software to take full advantage of Windows 8.1 functionality. See microsoft.com.
3Multi-Core is designed to improve the performance of certain software products. Not all customers or software applications will necessarily benefit from use of this technology. 64-bit computing on Intel® architecture requires a computer system with a processor, chipset, BIOS, operating system, device drivers, and applications enabled for Intel® 64 architecture. Processors will not operate (including 32-bit operation) without an Intel® 64 architecture-enabled BIOS. Performance will vary depending on your hardware and software configurations. Intel's numbering is not a measurement of higher performance.
4WWAN is an optional, add-on feature. WWAN use requires separately purchased service contract. Check with service provider for coverage and availability in your area. Connection speeds will vary due to location, environment, network conditions, and other factors. 4G LTE is not available in all regions and requires Windows.
5Requires an Internet connection to HP Web-enabled printer and HP ePrint account registration (for a list of eligible printers, supported documents and image types, and other HP ePrint details, see hpconnected.com). Mobile devices require Internet connection and email capability. May require wireless access point or optional broadband module. Broadband use requires separately purchased service contract. Check with service provider for coverage and availability in your area. Separately purchased data plans or usage fees may apply. Print times and connection speeds may vary.
6External power supplies, power cords, cables, and peripherals are not low-halogen. Service parts obtained after purchase may not be low- halogen.
7HD content required to view HD images.
8Weight may vary based on configuration.
9Requires a compatible Intel® Core processor, Intel® Rapid Start software and BIOS update, and optional solid-state drive (SSD) or mSATA flash cache module. Depending on system configuration, results may vary.
10Based on PCMark testing. Depending on system configuration, your results may vary.
11The wireless hotspot application requires an active Internet connection and separately purchased data plan. While HP wireless hotspot is active, on-device applications will continue to work and will use the same data plan as the wireless hotspot. Wireless hotspot data usage may incur additional charges. Check with your service provider for plan details. Requires Windows 8.1 or HP Connection Manager for Windows 7.
12HP Mobile Connect service requires a compatible CDMA or HSPA mobile broadband module and prepaid service purchase. Find coverage and availability for your service area at hp.com/go/mobileconnect.
13Intel® Wireless Display available on Intel® products only. Requires a separate wireless display receiver with a USB port and an HDTV or monitor with HDMI input. High-definition (HD) content is required to view high-definition images.
14Sold separately or as an optional feature.
15EPEAT® Gold registered in the U.S. See epeat.net for registration status by country.
16Requires Windows. Data is protected prior to Drive Encryption login. Turning the PC off or into hibernate logs out of Drive Encryption and prevents data access. For the use cases outlined in the DOD 5220.22-M Supplement. Does not support solid-state drives (SSDs). Requires Disk Sanitizer, External Edition for Business Desktops from hp.com. Initial setup required. Web history deleted only in Internet Explorer and Firefox browsers and must be user-enabled. With Windows 8.1, user must turn off Enhanced Protection Mode in IE11 for shred on browser close feature.
17Requires Windows operating system.
18HP Trust Circles Standard, when included, allows up to five Trust Circles with up to five contacts in each Trust Circle. Optional Trust Circles Professional is required for unrestricted number of Trust Circles and members contacts. Trust Circles Reader is available to allow a contact to participate in an invited Trust Circle. Requires Windows.
19This system may require upgraded and/or separately purchased hardware to take full advantage of Windows 7 functionality. Not all features are available in all editions of Windows 7. See windows.microsoft.com/en-us/windows7/products/home for details.
20Maximum memory speed supported by the system may be 1333 MHz or 1066 MHz.
21For hard drives and solid state drives, GB = 1 billion bytes. TB = 1 trillion bytes. Actual formatted capacity is less. Up to 16 GB (for Windows 7) and up to 30 GB (for Windows 8.1) of system disk is reserved for system recovery software.
22Wireless access point and Internet service required and sold separately. Availability of public wireless access points limited.
23Service levels and response times for HP Care Packs may vary depending on your geographic location. Service starts on date of hardware purchase. Restrictions and limitations apply. For details, visit hp.com/go/cpc.
24Internet access required.
25Power calculations and cost calculations are estimates. Results will vary based on variables, which include information provided by the user; time PC is in different power states (on, standby, hibernate, off), time PC is on battery or AC, hardware configuration, variable electricity rates and utilities provider. HP advises customers to use information reported by HP Power Assistant for reference only and to validate impact in their environment. Environmental calculations were based on U.S. EPA eGrid 2007 data found at epa.gov/egrid/. Regional results will vary. Requires Microsoft Windows.
26Configurations of the HP EliteBook Revolve 810 G2 with a Microsoft operating system are ENERGY STAR® qualified* and are identified as "HP EliteBook Revolve 810 G2 ENERGY STAR®" on HP websites and on energystar.gov.
27Requires Internet Explorer, IE8 or IE9. Some websites and applications may not be supported.
28For the use cases outlined in the DOD 5220.22-M Supplement. Does not support solid-state drives (SSDs). Initial setup required. Web history deleted only in Internet Explorer and Firefox browsers and must be user-enabled.
29HP Tools partition with HP BIOS required for automatic recovery.
30For the methods outlined in the National Institute of Standards and Technology Special Publication 800-88.
31Absolute Data Protect agent is shipped turned off, and must be activated by customers. Service may be limited; check with Absolute for availability outside the U.S. The optional subscription service of Absolute Recovery Guarantee is a limited warranty. Certain conditions apply. For full details visit absolute.com/company/legal/agreements/computrace-agreement. If Data Delete is utilized, the Recovery Guarantee payment is null and void. In order to use the Data Delete service, customers must first sign a Pre-Authorization Agreement and either create a PIN or purchase one or more RSA SecurID tokens from Absolute Software.
32Lync software is sold separately. Requires Internet access.
Pricing Notes:
Pricing and product availability subject to change without notice.
HP Notebooks
HP EliteBook Revolve 810 G2 Tablet PC
EliteBook Revolve 810 G2 Tablet PC
810 i5-4310U 11 4GB/128 HSPA PC Core i5-4310U, 11.6 HD AG LED UWVA, UMA, Webcam, 4GB DDR3 RAM, 128GB SSD, AC, BT, HSPA WWAN, 6C Battery, Win 7 PRO 64 w/Win 8.1 Pro LIC, 3yr Warranty U.S
#J8U29UT#ABA
Our Price: $1,697.00